Rory Geeson
Research Student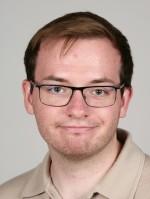 Biography
Former CEB undergraduate now undertaking a PhD with the SynTech CDT. My current work focuses on PODE reaction modelling and PriMe data representation. My past work has focused on molecular dynamics simulations using Quantised State Solvers and nanoparticle classification equipment comparisons and inference.
Research Themes


Recent Preprints
262: Automated calibration of a poly(oxymethylene) dimethyl ether oxidation mechanism using knowledge-graph technology
Jiaru Bai, Rory M Geeson, Feroz Farazi, Sebastian Mosbach, Jethro Akroyd, Eric J. Bringley, and Markus Kraft, Technical Report 262, c4e-Preprint Series, Cambridge, 2020.
Contact Details
Email:
rmg56@cam.ac.uk_delete_this_bit
Address:
Department of Chemical Engineering and Biotechnology
University of Cambridge
West Cambridge Site
Philippa Fawcett Drive
Cambridge
CB3 0AS
United Kingdom