Kok Foong Lee
Research Student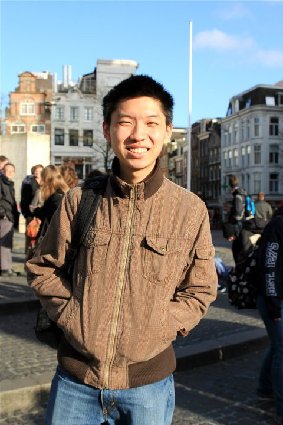 Biography
Before joining the CoMo group, I obtained my M.Eng. degree in Chemical Engineering from the University of Birmingham. My current research interests are the development of efficient stochastic particle methods and the application of population balance model for wet granulation process.
Research Themes

Recent Publications
A derived information framework for a dynamic knowledge graph and its application to smart cities
Jiaru Bai, Kok Foong Lee, Markus Hofmeister, Sebastian Mosbach, Jethro Akroyd, and Markus Kraft, Future Generation Computer Systems 152, 112-126, (2024).
Perspectives for regulating 10 nm particle number emissions based on novel measurement methodologies
Zissis Samaras, Marcus Rieker, Eleni Papaioannou, Willem F. van Dorp, Marina K. Kousoulidou, Leonidas Ntziachristos, Jon Andersson, Alexander Bergmann, Stefan Hausberger, Jorma Keskinen, Panu Karjalainen, Sampsa Martikainen, Athanasios Mamakos, Christoph Haisch, Anastasios Kontses, Zisimos Toumasatos, Lukas Landl, Markus Bainschab, Tero Lähde, Oriana Piacenza, Philipp Kreutziger, Amit Bhave, Kok Foong Lee, Jethro Akroyd, Markus Kraft, Mohsen Kazemimanesh, Adam M. Boies, Cristian Focsa, Dumitru Duca, Yvain Carpentier, Claire Pirim, Jennifer A. Noble, Ophélie Lancry, Sébastien Legendre, Torsten Tritscher, Jürgen Spielvogel, Hans-Georg Horn, Antonio Pérez, Susanna Paz, Dimitrios Zarvalis, Anastasios Melas, Penelope Baltzopoulou, Nickolas D. Vlachos, Leonidas Chasapidis, Danis Deloglou, Emmanouil Daskalos, Apostolos Tsakis, Athanasios G. Konstandopoulos, Stéphane Zinola, Silvana Di Iorio, Francesco Catapano, Bianca M. Vaglieco, Heinz Burtscher, Giovanna Nicol, Daoíz Zamora, and Maurizio Maggiore, Journal of Aerosol Science 162, 105957, (2022).
Modelling Investigation of the Thermal Treatment of Ash-Contaminated Particulate Filters
Chung Ting Lao, Jethro Akroyd, Alastair Smith, Neal M. Morgan, Kok Foong Lee, Daniel Nurkowski, and Markus Kraft, Emission Control Science and Technology 7, 265-286, (2021).
A high-dimensional, stochastic model for twin-screw granulation - Part 2: Numerical methodology
Andrew D. McGuire, Sebastian Mosbach, Kok Foong Lee, Gavin Reynolds, and Markus Kraft, Chemical Engineering Science 188, 18-33, (2018).
Contact Details
Email:
kfl31@cam.ac.uk_delete_this_bit
Telephone:
+44 (0)1223 762784
Address:
Department of Chemical Engineering and Biotechnology
University of Cambridge
West Cambridge Site
Philippa Fawcett Drive
Cambridge CB3 0AS
United Kingdom