Yaoyao Liu
Part IIB Student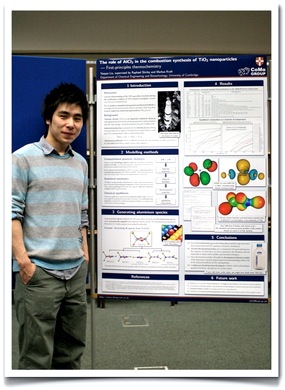 Biography
During his time in the CoMo group, Yaoyao used ab initio and density-functional theory techniques in quantum chemistry to investigate the role of gas-phase aluminium species in the combustion synthesis of titanium dioxide (TiO2) nanoparticles from TiCl4.
Titanium dioxide has broad-ranging applications from food colouring and paint to photocatalysts and self-cleaning windows. Annual production currently exceeds 5 million tons, of which the majority is produced by combustion synthesis in the chloride process. Aluminium chloride (AlCl3) is typically added during this process to promote the formation of rutile, a specific crystalline form of TiO2 that has the best pigment properties. However, the mechanism of aluminium as a rutile promotor in the gas phase (as opposed to Al-doped TiO2 crystals) is poorly understood.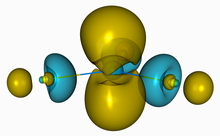 The image to the left shows the lowest unoccupied molecular orbital (LUMO) of AlCl3 as calculated by hybrid DFT (at the B3LYP/6-311+G(d,p) level of theory).
Yaoyao graduated from Trinity College in 2009 to work in the City.
Research Themes

Contact Details
Email:
yaoyaoliu@gmail.com_delete_this_bit
Address:
Department of Chemical Engineering and Biotechnology
University of Cambridge
West Cambridge Site
Philippa Fawcett Drive
Cambridge CB3 0AS
United Kingdom