Anders Selmer
Post Doc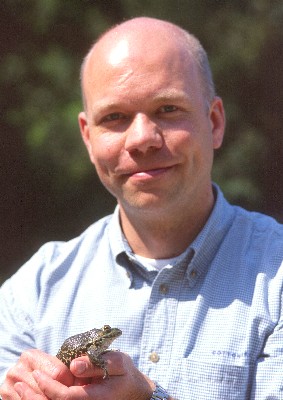 Biography
Hi there,

My name is Anders Selmer, I have a M.Sc in Chemistry and Chemical Engineering specializing in Biotechnology from the Lund Institute of Technology. After graduation I spent nine years working in Swedish industry starting out with biological waste water treatment at Anox, continued with development of dry powder inhalers at Astrazeneca, then caught the IT wave at Netch technologies and also had the time to do some teaching before I relocated to Cambridge. Here I'm working with web based experiments which are experiments as you know them from laboratory courses only that they are connected to computers that are hooked up to the Internet.

You sign up for a time slot and on your allocated time you log in to the experiment. You can then perform a real experiment, obtaining real data in real time from any computer with an Internet connection!

Markus got some money from CMI and was kind enough to employ me to get the job done. The project consists of two parts: incorporating an existing experiment from MIT in the laboratory course for the Cambridge students (together with Mike Goodson) and then to set up a new experiment here in Cambridge for the use of students from Cambridge and MIT.

Apart from working at the Department of Chemical Engineering I also enjoy taking care of my family, frogs and old cars.

Please don't hesitate to contact me via email or on the phone if you have any questions or any input.
Links
Research Themes

Recent Preprints
165: Cambridge Weblabs: a Process Control System using industrial standard SIMATIC PCS 7
Maria Botero, Anders Selmer, Roger Watson, Mukta Bansal, and Markus Kraft, Technical Report 165, c4e-Preprint Series, Cambridge, 2016.
41: Weblabs in Chemical Engineering Education
Anders Selmer, Markus Kraft, Clark Colton, and Ralf Moros, Technical Report 41, c4e-Preprint Series, Cambridge, 2006.
27: Process Dynamics and Control Experiment Performed Across the Atlantic
Anders Selmer, Mike J. Goodson, Markus Kraft, Siddhartha Sen, Faye McNeill, Barry S. Johnston, and Clark K. Colton, Technical Report 27, c4e-Preprint Series, Cambridge, 2004.
Contact Details
Email:
anders.selmer@ge.com_delete_this_bit
Address:
Department of Chemical Engineering and Biotechnology
University of Cambridge
West Cambridge Site
Philippa Fawcett Drive
Cambridge CB3 0AS
United Kingdom