Experimental study on engine combustion and particle size distributions fueled with Jet A-1
Reference:
Fuel
263
,
116747
,
(2020)
Highlights
An engine experimental study fueled with Jet A-1 and diesel was conducted.
Impact of Jet A-1 on diesel engine performance was studied.
Particle size distribution and particle number concentration fueled with Jet A-1 were studied.
Different particle modes in Jet A-1 and diesel combustion were compared.
Abstract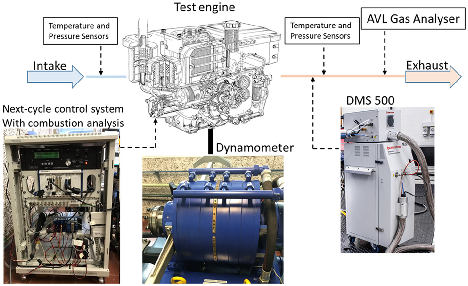 In this study, a comprehensive investigation of combustion and emission characteristics of Jet A-1 applied in diesel engine was experimentally conducted. Analysis is emphasized on engine performance and soot particle emission both in size and number concentrations when fueled with Jet A-1, compared with traditional diesel fuel. It is concluded that compared with diesel combustion, the combustion phase is obviously retarded when fueled with Jet A-1. The premixed combustion fraction with Jet A-1 is increased and the peak of premixed heat release of Jet A-1 is higher compared with diesel combustion under different injection pressures and different engine loads. Fuel economy with Jet A-1 is significantly improved compared with diesel, which is because of higher low heating value of Jet A-1 as well as more intensive heat release near top dead center (TDC). Jet A-1 and diesel show similar trends in particle size distribution along with the changes of engine loads. Under the low engine load, the particle size distribution is basically dominated by nucleation mode, meanwhile higher concentration of nucleation particles is observed when fueled with Jet A-1 compared to diesel. As the engine load increases, the accumulation particles are increased while the nucleation particles are in turn decreased. When the engine is running under high engine load, the particle size distribution is dominated by accumulation mode. Based on these findings, the potential to improve fuel economy and reduce particulate matter (PM) emissions by using Jet A-1 in a diesel engine was therefore proposed.