Speckled Chocolate Cake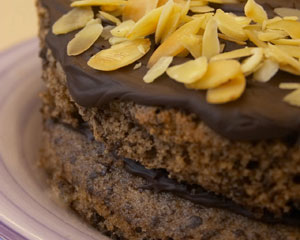 This is a deliciously moist sponge cake with a wonderful texture and unusual appearance. It is perfect for any occasion.
Ingredients
Cake
110 g dark chocolate, 70-75% cocoa solids, grated
110 g ground almonds
110 g unsalted butter, room temperature
175 g golden caster sugar
90 ml milk
6 eggs, large, separated
175 g self-raising flour, sifted
Icing and Decoration
175 g dark chocolate, 70-75% cocoa solids, broken up
1 rounded tablespoon creme fraiche
50 g flaked almonds, toasted, to decorate
Method
First of all, preheat the oven to 220 C and grease and line a 20cm (8") round baking tin
Cream together the butter and sugar until they're light, pale and fluffy. Beat the egg yolks and add them to the mixture, about a teaspoonful at a time. Beat well after each addition. When all the yolks are in, lightly fold in the ground almonds, grated chocolate and milk, using a metal spoon.
Next, whisk the egg whites in a clean bowl until they reach the soft peak stage. Fold gently into the rest of the mixture, taking care so as not to lose all the air you have whisked in. Finally, add the flour - again, folding that in carefully with a metal spoon.
Next, spoon the mixture into the prepared tin. Level it off and place it on the centre shelf in the oven, reduce the heat to 170 C and bake the cake for 1 hour 10 minutes-1 hour 15 minutes. When it's done, the centre of the cake should be springy when lightly touched. Allow the cake to stand in the tin for 5 minutes, then turn it out on to a wire rack to cool.
To decorate, melt the 175 g dark chocolate in a heatproof bowl above a saucepan of barely simmering water. Make sure the bottom of the bowl doesn't touch the water or it will burn. The chocolate should take about 5 minutes to become smooth and glossy. Allow it to cool for 2-3 minutes and thicken slightly and then stir the creme fraiche into the chocolate.
Split the cake in half and use half the chocolate to sandwich it together, and the other half to spread over the top. Decorate with a few toasted almonds and serve. The cake can be stored for a couple of days in an air-tight container.