Lemon and Almond Cake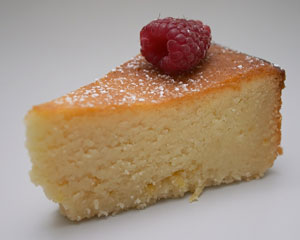 This is like homemade lemony marzipan in cake form. Served up with lashings of whipped cream and a liberal scattering of raspberries, this is the perfect treat to add a touch of summer to the darkest autumn days. It was certainly a hit in the Computational Modelling Group, and disappeared within a day.
Ingredients
225 g unsalted butter
225 g caster sugar
4 eggs, large
50 g plain flour
225 g ground almonds
0.5 teaspoon almond essence
zest of one lemon, grated
juice of one lemon
Method
Start by lightly greasing a 21 cm spring-form cake tin, and preheating the oven to 180 C.
Cream together the butter and sugar until almost white. Beat in the eggs, one at a time, adding a quarter of the flour after each addition. When all the eggs and flour have been added, gently fold in the almonds, followed by the almond essence, lemon juice and zest. Pour the mixture into the cake tin and bake for about an hour, or until the top is firm and a skewer inserted in the centre comes out clean(ish). Cover loosely with foil after about 30 minutes to prevent it burning on top. Take the cake out of the oven, and leave it to stand in its tin for 5-10 minutes. Then turn out onto a wire rack to finish cooling.
This cake benefits from a couple of days rest, so wrap well in foil and leave in an air tight container. Before serving, dust with icing sugar.