Baked Cheese Cake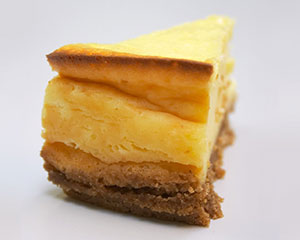 Ingredients
Base
100 g unsalted butter, plus some to grease
200 g digestive biscuits
50 g caster sugar
Filling
500 g cream cheese, at room temperature
200 g caster sugar
3 eggs
2 tablespoons cornflour
300 ml sour cream, at room temperature
1 teaspoon vanilla essence
Method
Start by lightly greasing a 20 cm spring-form cake tin, and preheating the oven to 150 C.
Gently melt the butter in a small saucepan. Roughly break the biscuits and place in a food processor. Process the biscuits until they resemble fine crumbs. Add the sugar and pour in the melted butter. Process for a further 30 s or so to combine. Put the biscuit mixture into the base of the tin, using the back of a wooden spoon to smooth the surface. Place in the fridge for at least 30 minutes.
Meanwhile, place the cream cheese in a large bowl. Add the sugar and whisk for 2-3 minutes. Add the eggs one at a time, beating well after each addition. Add the cornflour, cream and vanilla essence and beat well to combine.
Pour the filling into the tin and bake for 1 hour, or until the cheese cake looks well risen and golden brown on top. It should feel slightly firm to touch - if the mixture still appears wet, continue to cook for a little longer. When cooked, turn the oven off and allow the cake to cool in the oven with the door slightly open. This helps to prevent the cake cracking. When completely cool, remove the cake to the fridge.